A 52-year-old woman from New South Wales has died from a blood clotting condition after receiving the AstraZeneca COVID-19 vaccine.
The Therapeutic Goods Administration (TGA) confirmed the death, saying the woman contracted a severe form of thrombosis with thrombocytopenia syndrome (TTS) – a rare but serious side effect of the AstraZeneca jab.
She developed a blood clot in her brain, known as venous sinus thrombosis.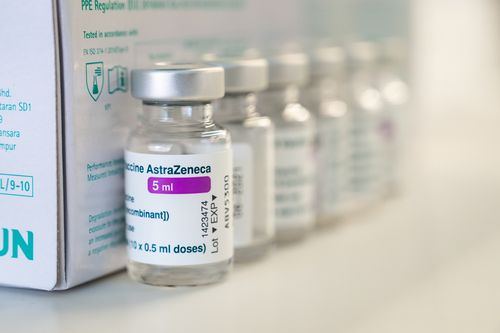 The woman is the second Australian to die from the clotting condition after receiving the vaccine.
She is one of four new cases of TTS in the past week confirmed by the TGA as being caused by the AstraZeneca vaccine, while four other cases are probable but still under investigation.
The other confirmed cases are a 77-year-old NSW man and two South Australians – a 70-year-old man and 87-year-old woman.
Today's new cases bring the total number of cases of  TTS likely linked to AstraZeneca in Australia to 48, 35 of which have been confirmed by the TGA.
Fifteen people are currently hospitalised with the condition, including one who is critically ill in Intensive Care.