MUMBAI: Khar police arrested Shree Jogdhankar (22) and Diya Padankar (19) late on Friday for allegedly killing their friend Jhanavi Kukreja (19) on the first day of 2021 during a New Year's Eve terrace party at a highrise.
Kukreja succumbed to severe skull fractures she suffered after the duo allegedly hit her head against the staircase railing on the second floor of Bhagwati Heights in Khar (West) around 1.15am on Friday after a fight broke out between the trio.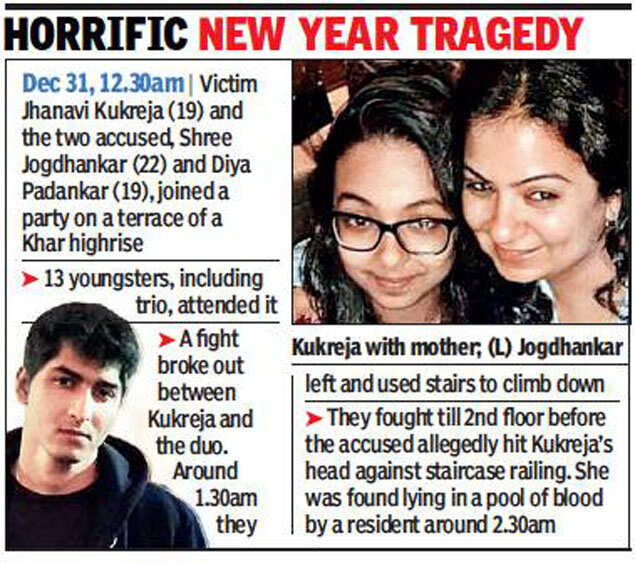 Police said while the motive is still not clear, they suspect it could be a case of a love triangle gone wrong. The victim's parents and friends, though, refuted the love triangle theory on Saturday and said she was an intelligent girl who dreamt of a bright career ahead. Her mother has demanded severe punishment for the accused who allegedly forced the victim to join them for the party and killed her an hour into it. The party was organised by a friend who resides in the Khar building. Kukreja lived in Santacruz with her parents and a younger sister.
Police learnt of the incident only at 2.30am, almost an hour after the accused—Wadala resident Jogdhankar and the victim's childhood friend and neighbour Padankar—committed the alleged crime.
Police suspect Jogdhankar and Padankar took "advice from someone" after committing the offence and fled from the building, leaving behind a grievously injured Kukreja, and got themselves admitted to two different hospitals—Jogdhankar at Sion and Padankar at Hinduja—to get treated for injuries they too suffered during their scuffle with the victim.
Investigators found out through CCTV that Kukreja and the duo left the party around 1.30am and her body was found in a pool of blood on the second floor around 2.30am by a resident. The friend who had held the party called the police on learning of Kukreja's death.
The victim's family learnt of her death only at 5am. Kukreja's parents alleged she bled to death for almost an hour before she was spotted bythe resident.
"She left home after celebrating her father's birthday on December 31," Kukreja's mother Niddhi told TOI. Niddhi said she wants justice for her "superintelligent daughter" who secured over 95% in her Class XII and was a psychology student.
While Jogdhankar is a student of Dadar Catering College, Padankar is enrolled in a second-year degree college.
Niddhi spent almost the entire Saturday at the police station to find the motive for the crime. "Padankar is my daughter's childhood friend and our neighbour's daughter. She along with Jogdhankar visited our flat and requested us to allow them to take our daughter for the party. Despite our daughter's refusal due to the night curfew, they told her they would drop her back in 30 minutes," Niddhi said. "Not one of her friends at the party came to her rescue. Delay in getting medical assistance cost my child her life. My daughter was not involved with Jogdhankar, who is just a common friend through Padankar. Our lives have been shattered," she said.
Kukreja's final rites were performed after her body was handed over to her parents following a post-mortem at Cooper Hospital.